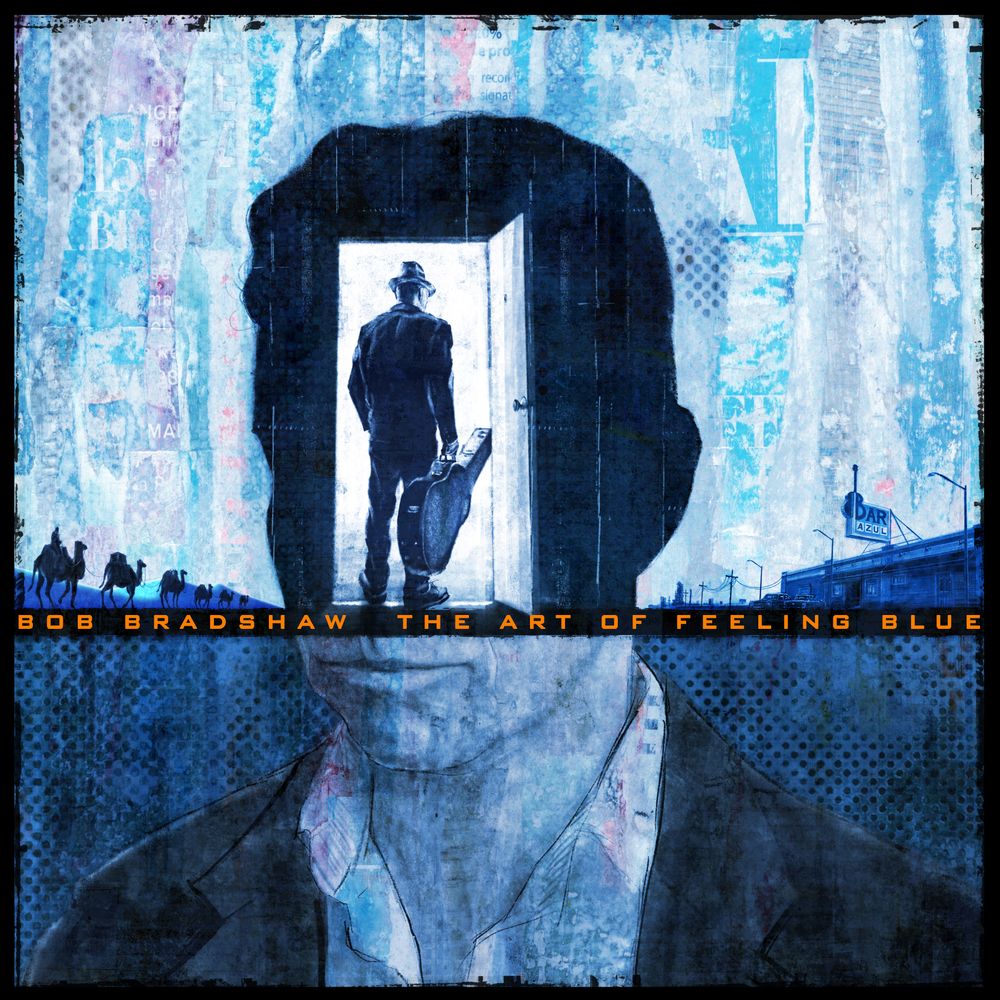 New album 'The Ghost Light' just released!
𝑭𝒓𝒐𝒎 𝒕𝒉𝒆 𝒓𝒆𝒗𝒊𝒆𝒘𝒔:
"The new record is a delightful collection of songs in a variety of styles, but all basically rock 'n' roll and all informed by Bradshaw's storytelling style. "Songs on the Radio" is a dazzling ode to tunes we grew up with, framed by an expansive 1970s-style arrangement.  But "Dream" is a laidback reverie, melding swing and twang expertly. The country-soul ballad "Gone" accentuates the tale of lost love with keening sounds on the Resophonic steel guitar", 𝑱𝒂𝒚 𝑴𝒊𝒍𝒍𝒆𝒓, 𝑷𝒂𝒕𝒓𝒊𝒐𝒕𝑳𝒆𝒅𝒈𝒆𝒓  
"Eleven fine songs in all from this master craftsman, these are stories worth hearing", 𝑫𝒂𝒗𝒊𝒅 𝑾𝒉𝒊𝒕𝒆, 𝑹𝒏𝑹 𝑴𝒂𝒈𝒂𝒛𝒊𝒏𝒆  
"I fell from one surprise into another: strong lyrics, varied musical lines, and sincere emotions. From waltz tango folk Americana to rock: Bob Bradshaw proves to be an all-round singer-songwriter. You will love it!" 𝑴𝒂𝒓𝒕𝒊𝒏 𝑺𝒆𝒓𝒅𝒐𝒏𝒔, 𝑲𝒆𝒚𝒔 A𝒏𝒅 𝑪𝒉𝒐𝒓𝒅𝒔  
 "As always, Bob Bradshaw has created an album packed with powerful, creative songs that seduce with their simplicity and hooks and just won't let go. Its appeal is both instant, and a testament to the songwriter's craft." 𝑨𝒍𝒍𝒂𝒏 𝑴𝒄𝑲𝒂𝒚, 𝑴𝒖𝒔𝒊𝒄𝑹𝒊𝒐𝒕.  
 "... the songs are definitely "timeless", and this could be one of the albums from 2021 that moves beyond the circumstances of its making to become a classic", 𝑻𝒊𝒎 𝑴𝒂𝒓𝒕𝒊𝒏, 𝑨𝒎𝒆𝒓𝒊𝒄𝒂𝒏𝒂𝑼𝑲  
"… a must for anyone that's a fan of meaty songwriting that says something", 𝑪𝒉𝒓𝒊𝒔 𝑺𝒑𝒆𝒄𝒕𝒐𝒓, 𝑴𝒊𝒅𝒘𝒆𝒔𝒕 𝑹𝒆𝒗𝒊𝒆𝒘.   
"... melodic, literate songs on this eclectic, adventurous" album, 𝑱𝒆𝒇𝒇𝑩𝒖𝒓𝒈𝒆𝒓, 𝑨𝒎𝒆𝒓𝒊𝒄𝒂𝒏𝒂 𝑯𝒊𝒈𝒉𝒘𝒂𝒚𝒔.   
"…a record for the sophisticated Americana listener… Bradshaw has added a beautiful album to his rich oeuvre", 𝑶𝒓𝒂𝒏𝒈𝒆 𝑭𝒍𝒂𝒈 𝑴𝒖𝒔𝒊𝒄, 𝑵𝑳. 
"… magical… vivid… masterpiece… an album that is full of classic and engaging storytelling, The Ghost Light proves that Bradshaw is an artist who deserves to be at the forefront of modern day Americana", 𝑮𝒆𝒓𝒓𝒚 𝑴𝒄𝑵𝒂𝒍𝒍𝒚, 𝑭𝒐𝒍𝒌 𝑨𝒏𝒅 𝑻𝒖𝒎𝒃𝒍𝒆. 
"… a thoughtful collection of tales that wander between folk, rock, country, Americana and blues to spellbinding effect", 𝑱𝒐𝒉𝒏 𝑲𝒆𝒓𝒆𝒊𝒇𝒇, 𝑯𝒐𝒕 𝑾𝒂𝒙 𝑨𝒍𝒃𝒖𝒎𝑹𝒆𝒗𝒊𝒆𝒘𝒔. 
"This is a record that clicks right away. Whether the songs are quiet and introspective, or brash and bold rockers, they hold together as a single expression, and reflect a well honed creative craft…"  𝑫𝒊𝒔𝒄𝒊𝒑𝒍𝒆𝒔 𝑶𝒇𝑺𝒐𝒖𝒏𝒅.  
 "'Sideways' gets a lift from Argentinian bandoneon player Francisco Martinez Herrera in its twisting tang tale, marked by an interesting couple who "can only see the world askew" and "Among the few who prefer always to take a sideways view." There's a swaying, throbbing waves-at-sea dynamic to "Light of the Moon" and a swirling sense of confusion with a healthy use of echoes for "In the Dark." Finally, the Niagara Barrel Ride Blues," a standout track, is rendered alone by Bradshaw on his resonator guitar, making it the pure lone blues track. Spend some time with these short vignettes and follow his stories as they unfold. That alone can be riveting on one level, add in the emotions conveyed, and the varied musical support and you're in for a rewarding listen", 𝑱𝒊𝒎 𝑯𝒚𝒏𝒆𝒔, 𝑬𝒍𝒎𝒐𝒓𝒆 𝑴𝒂𝒈𝒂𝒛𝒊𝒏𝒆